CBD Wellness Pain Relieving Salve: Inflammation and Hemp Topicals
When browsing our website, you may have noticed that we carry many CBD topicals. Why are topical CBD products so popular? Our carefully curated line of hemp products includes pain relief salve, muscle gel, and aloe lotion. But why would we include so many? For those experiencing symptoms such as muscle soreness and joint aches, CBD wellness pain-relieving salve, creams, and muscle gels like these can be a great option. For people trying to manage everyday pain and discomfort, CBD topicals are convenient and easy to use. 
According to the FDA, CBD is not an approved treatment for pain or inflammation. However, many people consistently turn to full-spectrum topical CBD ointments for relief. The best way to see why someone might turn to hemp products when dealing with pain and inflammation is to learn about how these issues affect the body. That knowledge, combined with an understanding of how scientists think cannabinoids interact with your body, allows you to put two-and-two together yourself.
CBD Topicals, Pain, and Inflammation
In this article, we will touch on several different complex scientific topics. Be on the lookout for future articles from us where we dive deeper into these topics. This blog is not intended to provide medical advice. If you are experiencing pain, always consult with your trusted medical professional before incorporating CBD products into your daily wellness regimen. Pain is always an indicator of another issue, which we will talk about more later in this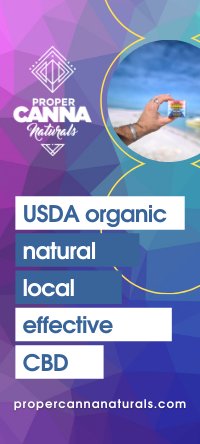 article. 
In this article we'll cover questions like:
What is the difference between CBD oils and CBD topicals?

What is the endocannabinoid system? 

What typically causes pain in the human body?

How did we formulate our CBD topicals with pain in mind? 

How might someone with pain use CBD during their day?
Many people find relief from symptoms associated with certain ailments through their use of hemp products. However, CBD cannot cure or treat any ailment, and is not officially recognized as a source of relief. Hemp is best used in conjunction with other wellness regimens and under the supervision of a care professional. 
We recently spoke with one of our family members who has struggled with pain in her hands from using repetitive hand motions every day at work. After giving her a small sample of our CBD cream, she now swears by it! Many people across the United States report similar stories. They can't all be full of it! Once you learn the science behind pain and the science behind the endocannabinoid system, it's easy to see how the two may interact.
CBD oils versus CBD topicals
So what even is a CBD topical, why do we make them, and how are they different from CBD oils? Both CBD oils and CBD topicals for sale from Proper Canna Naturals start with the same great key ingredient — Colorado-grown hemp. We use locally-grown CBD from Northern Colorado and manufacture every product in our own lab. We make both CBD oils and topical CBD products because each has its own use and application. 
Topical CBD for pain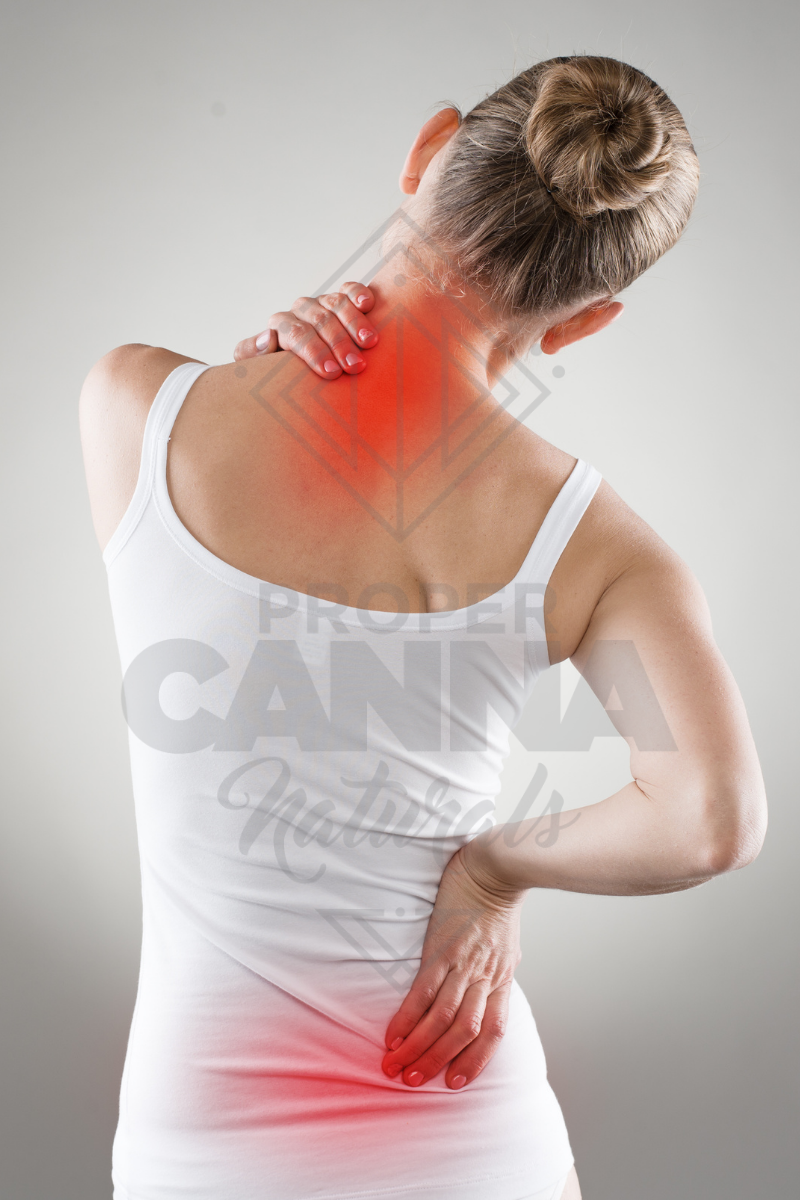 Many people turn to topical CBD for pain, especially for general aches and soreness. The main difference between CBD oil and topical CBD is that topicals are applied externally. Topicals are applied externally, directly to the site of pain. Topicals soak into the first few layers of skin but don't typically penetrate all the way to the bloodstream. This allows you to specially target the issue area.
You can also apply CBD oil directly to your external skin, but topicals are specially formulated for that. Topicals often contain a thinner base medium than oil, like lotion. Topicals made by Proper Canna Naturals are designed to be gentle on sensitive skin and to soak in quickly. We even have several types of CBD topicals for sale depending on your desired application method and consistency. Topicals are best for musculoskeletal pain. For organ-based, nervous system, and other types of generalized pain, a combination of topicals and CBD oil may be best. Understanding what causes pain in your body, how your body reacts to pain, and how your body reacts to CBD will help you understand why people turn to hemp products.  
What causes pain in the body
Pain is always an indicator of another issue —  one should never ignore pain. Especially if the pain is intense or recurring, you should definitely talk to a care professional. CBD is meant to be used in conjunction with an overall wellness regimen and under the supervision of a medical professional. Pain can come from many different sources. It could be caused by repetitive motion or an aspect of your lifestyle such as work or exercise, or from other internal conditions. There is almost always an underlying condition causing pain. Despite the main source/cause, the feeling of pain inside the body often comes from inflammation. 
A big part of the potential relief CBD brings people has to do with inflammation. The body's inflammatory response can get fairly complicated. Long story short, your body sends chemical messages when it experiences damage to an area. Cells within the immune system are sent to help heal the area; these cells serve purposes such as dilating the blood vessels so more blood can reach the injury. When more cells reach these areas, it can cause nerve irritation and pain, redness, and warmth. 
The Endocannabinoid System
The chemical messages your body sends to the areas which feel pain come from your body's endocrine system. This happens to be the same system in your body that cannabinoids like CBD interact with. To get into this more scientifically, CBD interacts with two specific receptors within the Endocannabinoid System: CB-1 and CB-2. CB-2 in particular can have impacts on decreasing pain and inflammation.
Studies have found that CBD helps with inflammation by interrupting cytokines, which are molecules that signal the body to move cells towards damaged areas and promote inflammation. Therefore, the inflammatory response is decreased. While this is a normal way for the body to heal, CBD might help to mitigate the pain in these inflamed areas while still allowing the muscles to heal. 
When you look at the science behind the endocrine system, CBD, and inflammation, it's easy to see how all three might interact! 
How CBD Topicals Work
When CBD topicals are spread onto the skin, they penetrate farther than just the surface layer. Instead, it affixes to cell receptors in nerves and muscle tissue. When CBD topicals are used, the cannabinoids attach to and activate these receptors and may help to provide this relief to sore muscles and joints. This is ideal for localized pain, as it can allow consumers to receive quick relief for specific problem areas. 
Depending on your needs and the specific type of pain, you will want to choose a different type of topical CBD. Each of our different products is not only a different consistency and base, but also contains other herbs, oils, and plant extracts meant to assist you in finding relief. 
Proper Canna Topical Formulas
At Proper Canna Naturals, we have carefully formulated each of our CBD topical ointments. We start with quality CBD oil and include ingredients that have been found to carry many other beneficial effects. We have three different high-strength organic CBD topicals for sale. Our topicals include Rocky Mountain Chill muscle gel, CBD wellness relief salve, and hemp lavender body lotion. Each one is a different consistency and has its own unique properties. 
Muscle Gel
Our Rocky Mountain Chill muscle gel has a long list of amazing ingredients, including witch hazel distillate, spearmint, lemongrass, and eucalyptus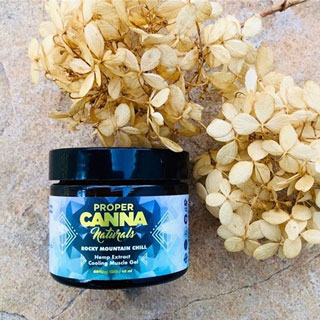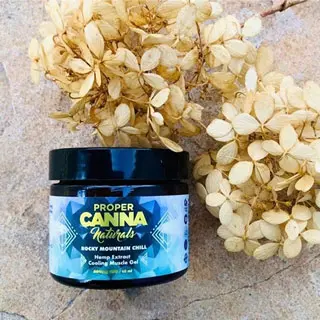 essential oils. The cooling sensation from the eucalyptus and spearmint immediately provides relief to sore muscles while the CBD soaks in. Witch hazel has been found to be anti-inflammatory, so it can team up with the CBD in our topicals and help fight inflammation! It has a long list of many other benefits, including reducing skin irritation. 
The essential oils we choose for our topicals are carefully picked to put your mind and body at ease. Many people use essential oils for aromatherapy, and find them to be very effective in putting the mind at ease. We have combined oils that smell amazing and can also provide many benefits for sore muscles. Spearmint has an amazing cooling effect that feels simply amazing on muscles and joints, and can also reduce muscle spasms. Lemongrass has been found to provide relief to sore muscles as well, while eucalyptus works as an anti-inflammatory. 
CBD Wellness Relieving Salve
Even though our 500mg Relief Salve and Hemp Lavender Aloe Body Lotion have a shorter list of ingredients, you can rest assured they've been carefully handpicked to provide the greatest amount of relief! If you've ever spent a little too much time out in the sun, you've probably heard of the amazing benefits of aloe. The aloe barbadensis leaf juice in our lotion works to reduce and soothe inflammation! This amazing ingredient forms a barrier on the skin for protection so can aid in recovery while also boosting skin health with its natural antioxidants. 
CBD Aloe Hemp Lavender Lotion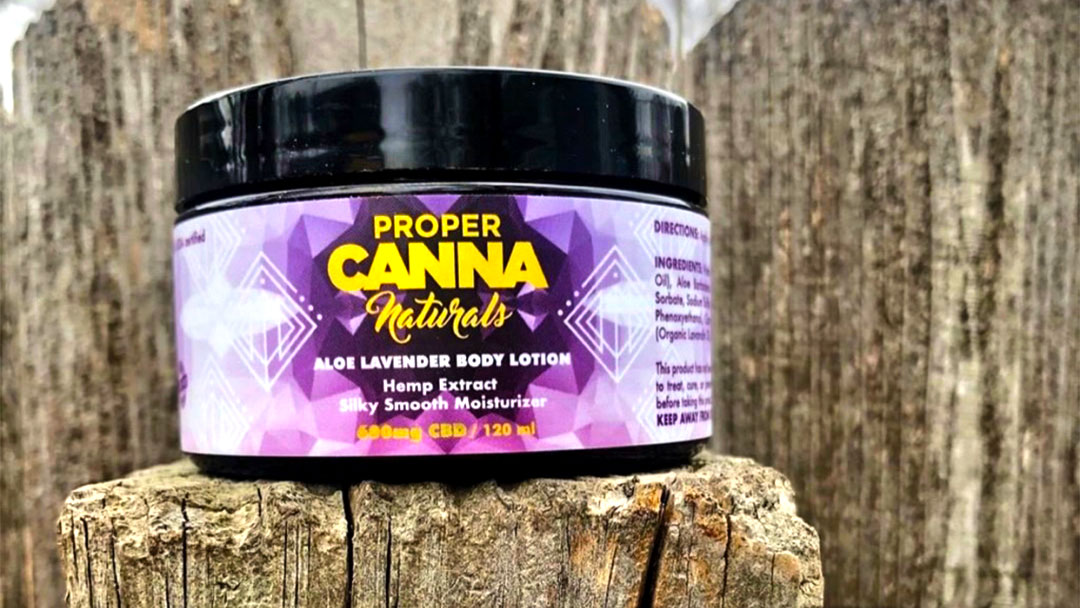 The Aloe-Lavender Lotion and CBD Wellness Relief Salve both have lavender oil, which is also an anti-inflammatory. In addition to that, lavender can also help with healing due to its antiseptic properties. You'll also find Arnica oil in the Relief Salve. This oil can reduce swelling, ease muscle spasms, and help out with minor skin irritation. Essentially, with our topicals, you're getting not only the benefits of the organic, high-quality hemp extract but also the essential oils and other quality ingredients we've blended together for long-lasting, fast-acting relief!  
How to use CBD Throughout Your Day
Your specific type of pain will determine which products you want to use and when. Each one has its own unique pros. For example, the muscle gel provides instant relief. The body lotion is great for large areas. The pain salve is long-lasting and also great for things like burns and bug bites. Especially when used in conjunction with CBD oils, CBD topicals can provide all-over relief throughout your entire day. 
You can even layer multiple CBD products for extra goodness. For example, start with a glob of muscle gel on a sore neck. The cooling sensation and minty smell help release physical and mental tension. Then, layer on some hemp lavender body lotion to seal in the first layer of CBD and provide moisture. The combination and possibilities are numerous! 
The severity of your pain, exercise and perspiration levels, how much your clothes rub the applied area, and other factors can all affect the longevity of CBD's potential effects. You may need to reapply as much as once an hour, or only once a day. CBD is all about experimenting to find out what works best for your needs and your lifestyle. 
It's important to note that our CBD topicals are not a cure-all for any serious problems, but we've found they've helped us with relief and get us back on our feet! Before we leave you, just a few more tips for using CBD topicals from Proper Canna Naturals: 
When you go to use a topical CBD cream, first make sure to clean the area first. 

The product will have a recommended amount to use, so start with this and apply further if needed.

With any new product, is it important to first test it out on a small area and make sure the skin has no adverse reactions.
Check out our store to pick out some of our topicals, and keep an eye out for more in the future! 






Join The
Proper Canna

Family
Subscribe now and unlock 15% Off your first order and news on latest products and specials